How pharmacists can help solve medication errors
In today's health care system, no one person – maybe not even you – knows exactly what drugs you're taking. What's more, no one health care provider knows how you, the patient, take your medications and at what doses. No single, up-to-date record consistently displays all of this important information.
The lack of an accurate medication list, and the associated lack of centralized and expert management of your full drug regimen, has serious consequences.
Investigating the problem
In a 2015-2016 project, UCSF School of Pharmacy pharmacists compared the accuracy of the medication lists of 135 newly discharged patients with the medications the patients actually ended up taking. Not one of these lists completely reflected medication use at home, despite the fact that each patient had been recently discharged from a controlled hospital environment.
Common errors included:
Duplication of therapy (either getting two of the same medication or two drugs in the same class).
Omitted but necessary medications.
Unreported use of herbals or dietary supplements.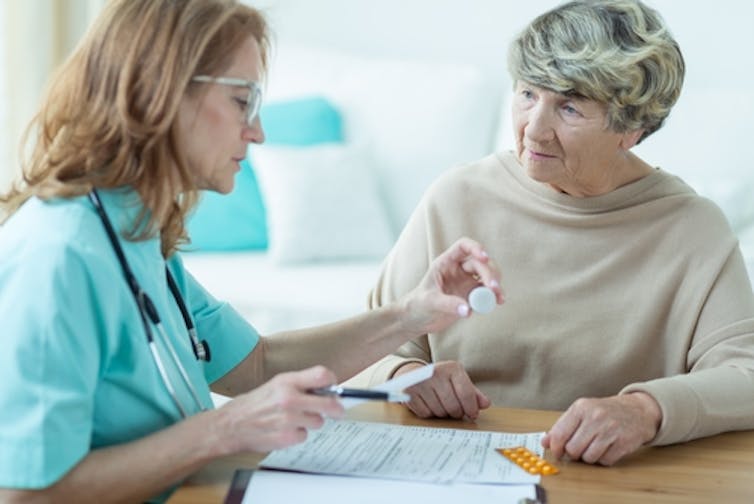 In a previous project in 2014, as part of a new transition of care program, patients received an automated phone call 48 hours after leaving the hospital. Any reported issues resulted in an immediate phone call by a nurse and pharmacists addressed any medication issues.
An unpublished study of these post-discharge phone calls by the School of Pharmacy revealed medication issues were common. Forty percent of the pharmacy calls during the study period involved access, such as insurance coverage or transportation to a pharmacy, while 60 percent involved clinical issues, including medication side effects, interactions or medication use instructions.
The path forward
I am hopeful the results of our pilots suggest a way forward.
As the above examples suggest, pharmacists can increase the efficiency and impact of a whole health care team. Pharmacists have been doing this for years in hospitals, and it's time for them to do it in the community as well. For patients, that means having a professional consistently reviewing the accuracy of their medication lists and ensuring all drugs are safe and effective.
Pharmacists know how drugs act and interact in the body. They are experts regarding medication choice and side effects. And they understand how to work with insurers on behalf of their patients. Their mission is to ensure the individual patient is receiving the right drugs at the right time, and that the drugs are safe, effective and affordable. They're also generally adept at determining if the patient is willing and able to take the needed medication. Pharmacists have the credentials and training to perform all these critical tasks. They carry doctoral degrees and, of course, must be licensed to practice.
Let pharmacists do their best work
Ensuring an accurate, managed medication list for each patient would require a radical change in the business of health care. The current community pharmacy business model is based upon the volume of drugs dispensed. In a new patient-centered model, pharmacists would be reimbursed for dispensing their advice to patients, just as they are for dispensing drugs. In this model, the pharmacist is a critical member of the patient's health care team.
For the future, a much better solution is possible: A medication expert will take full responsibility for reviewing your list with you. This expert will ensure that the medications you're taking are safe, work for you and are affordable. This expert will consider your personal situation and all your health conditions in relation to the medications and will address any concerns with fellow providers on your health care team.
I believe the pharmacist is the medication expert that's needed to implement the complete solution.